Post-Pandemic Collaboration Creates Eco-Friendly Nest for All
Soaring off the swing set and into the Falcon's Nest, Green Hope Elementary students embrace their new outdoor learning space.
Since 2019, Green Hope Elementary School (GHES), Parent Teacher Association (PTA) members, Green Hope High School (GHHS) students and GHES faculty developed an outdoor interactive environment aimed at enriching the school population.
PTA members Andrea Gatt and Laura Bartoli designed this plan following the isolation created by the COVID-19 pandemic. As mothers of GHES students, the two recognized the necessity for unique, STEM-friendly spaces to promote student learning and engagement, and they saw an outdoor classroom as the perfect way to both establish community and benefit all students.
"We had this huge space around the school that wasn't being used for anything, and we just saw the potential to make it a cool place for kids to come and participate in outdoor lessons. Even if it wasn't something specific to the classroom, it would give a space for kids to come out and color, come out and read, come out and do anything, just come out and get some fresh air," said Bartoli in an interview with the GH Falcon.
The space was strategically built to include a sheltered portion as well, making it suitable for different kinds of weather as well as long-lasting. 
"I hope that by building it like this rather than like a tent, it'll be used for many years, and we hope that it is a legacy piece that all future students can use," said Gatt.
Although the process wasn't short or simple, Green Hope Elementary PTA members researched and contacted different individuals as well as organizations in the local area to take part in the project. 
"Raising money was the hardest challenge. We had a great team of PTA parents who really focused on that and reached out to all donors, both large and smaller ones… everything counted and it made a huge impact," added Bartoli.
These founding donors include local small businesses, various organization and families.
Green Hope Elementary Principal Kristin Walker provided insight on the significance of the space for its surrounding community. She spoke to PTA members, local donors and parents at the project's ribbon-cutting ceremony on September 27th to emphasize the changes to come as a result of the project. 
"
We know right now that teachers are going through a really tough time…This [the project] is a symbol, a manifestation of a really supportive, amazing community."
— Kristin Walker, Green Hope Elementary Principal
"In the future, I know we'll have some awesome opportunities to collaborate with the high school students and have them come out and do some things with our own students," said Principal Walker. 
"
It's a great advocacy for the Arts department, it's a great advocacy for putting art in the community, and when you start doing that, they're really going to have a love for it at such an early age."
— Ms. Melissa Poppe, National Art Honor Society Adviser
Ms. Melissa Poppe, the National Art Honor Society (NAHS) adviser, spoke about her passion for the art project and how it brought high school students to the elementary school earlier this year. "They told us they wanted North Carolina-themed posts to insert into the Falcon Nest for elementary students. We painted lighthouses, honey bees, cardinals, the coast, mountains and the piedmont on these posts," said Poppe.
From late April through early June, NAHS students persisted as they painted at GHES after school for weeks. 
Prachi Thaker ('23), a member of NAHS who participated in the GHE project, shared her thoughts on the completed outdoor educational space. "The project was a great way to give back to our community through art. All the art we produced was relative to North Carolina, so I hope it helps the students learn more about the state itself."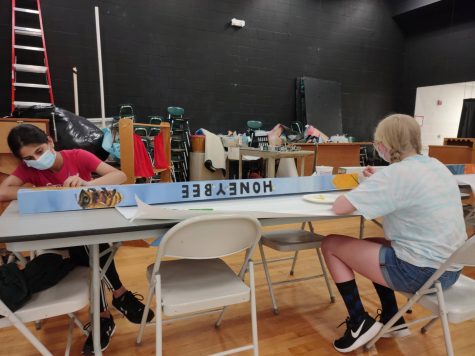 Another member of NAHS, Leah Anderson ('23), seconded how dedicated the honor society's students were to helping the younger children. "I spent around eight hours painting posts, and we were there on multiple different days of the week."
Green Hope High School's orchestra also took part in the initiative by performing during the ribbon-cutting ceremony. The students diligently practiced prior to the event to ensure the donors were greeted with all kinds of appreciation.
Beyond the artistic aspects of the Falcon's Nest, the PTA members incorporated environmentally-friendly components into the project as well.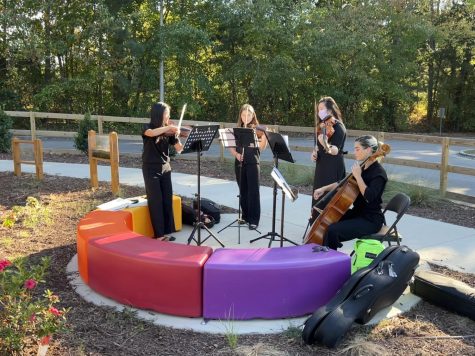 "This space has solar panels, so the students are learning about sustainability. Our solar panels power the entire area and control the irrigation to water all the plants," added Bartoli. "NC State came out to help us install our rain system and the Museum of Natural Sciences came out to give a lesson to the students and teachers about using this outdoor space." 
Through the collaboration and created sense of community, Green Hope Elementary PTA and faculty members are confident that this space will continue to benefit all of its students.
"I just want to thank you from the bottom of my heart for everything you all have given generously," said Principal Walker. "This is just incredible, and we will be loving this space forever."
Leave a Comment
The staff of the GHFalcon would love a donation to help the journalism program at Green Hope continue to flourish. Many of our donations go to towards improving the materials that we deliver to you in electronic format. Thank you so much to those that are able to donate.
About the Contributor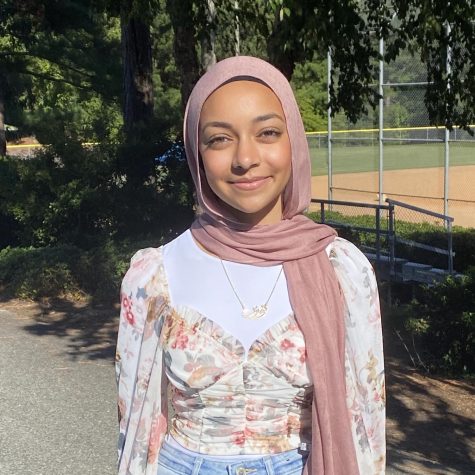 Noreen Mohamed, News Editor
Noreen Mohamed is a senior at Green Hope High School. This is her second year on the GHFalcon.  Noreen is a nationally recognized writer for her work on a variety of subjects. In the future, Noreen is...