New Principal Mrs. Alison Cleveland Brings Energy, Commitment, and Passion
Falcon Pride and Engagement are central to Principal Cleveland's vision.
New leadership often carries with it a sense of concern, apprehension, and confusion. The idea of someone else taking over leadership in a school setting is bound to bring uncertainty amongst students. 

Following the retirement of Dr. Camille Hedrick, Green Hope welcomes its new principal, Mrs. Alison Cleveland. 

Previously serving as Principal at Wakefield Middle School, Assistant Principal at Athens Drive High School, teaching elementary, middle and high school, and coaching basketball, Mrs. Cleveland comes to Green Hope with ample expertise. 

Mrs. Cleveland began her administrative career at Green Hope High School as an intern nine years ago under Dr. James Hedrick and described her arrival to Green Hope as 'coming home'. "I live in the community, so it really does feel like I'm serving my community," she said. 

Reflecting upon her first week at work, Mrs. Cleveland noted that getting to know the students and faculty, as well as learning her new students names and interests have been nothing short of excitement for the elated principal. 

"

"I bring energy, I bring commitment, I bring passion.

— Mrs. Alison Cleveland

Cleveland briefly touched on her goals for Green Hope this year. "I'm hoping to support students to get a chance to just engage in interesting, fun and applicable learning experiences, but also bring a big community connection to the school so that we are serving the community and the community is supporting us," she stated. "I would love to provide opportunities for every student to feel connected to the school. Be it through activities or clubs or athletics, or just events. We just want to have people feeling connected."

Mrs. Cleveland provided her insights on several new policies for this year, including the tardy policy and lunch location changes.

"Now that things are settled a little more, we need to make sure that we are learning from the beginning of class through the end of class. So, we have the tardy policy in place," she emphasized. "I don't think it's going to be that big of a deal once people get used to it, but we are going to start at 7:25 in the morning everyday."

She went on to stress that the learning environment students are in have a tremendous impact on their education. "It's all about safety and learning," she said. "We learn best when we feel safe and when we have opportunities to connect with each other. Students learn better when they're learning together than learning in isolation. And it's probably a lot more fun to learn when you get the opportunity to talk to each other, so that's why we want everybody in class to be able to do that."

Regarding the lunch location changes, Cleveland noted that they are mainly motivated by a state-wide staffing shortage, as there are not enough teachers to supervise students during lunch. This issue led her to make the difficult decision to either give teachers one SMART lunch period and two lunch duty shifts, or sustain teachers' SMART lunch periods and remove certain areas for students to eat. 

"It's mostly around being able to safely supervise students. With teacher shortages around the whole state, our staffing is limited, so we want to make sure we're safely supervising everyone and that's really the reason why we shifted," Cleveland said.

Assistant Principal, Mrs. Sarah Robertson, stated that Mrs. Cleveland is 'great to work with' and she is looking forward to a safe, fun and engaging school year. She also touched on accommodating her administrative duties for the new principal. "One of my roles is to help Ms. Cleveland with getting up to speed on processes and goals that we're already working toward. Ms. Cleveland is doing a great job of taking the time to get to know everyone," she said.

Siifan Hirpa

"

"I don't believe I have all the right ideas, but I believe that our entire student body and faculty have great ideas, and I would want everyone to feel like we can discuss them together and make plans together because that's how we'll move forward as a school.

— Mrs. Alison Cleveland

When asked about her long-term vision for the school, Cleveland stated, "I want the school to feel safe and I want to be reflective of our community, which includes engaging all of our student groups and all of the cultures and the countries that we serve because we are pretty international which I think is fantastic. We want to make sure that all students are represented in their instruction, in their activities, and in their student body life, because then it's a much more fun place to come to, you feel like you're a part of it. And at any time students feel connected to what they do for the majority of their waking hours, it's a better experience for everyone."

With the new year ahead, Mrs. Cleveland concluded by giving a message to students and faculty. She hopes that students and faculty know that she intends on hearing any suggestions, experiences and insight from anyone, and is easily approachable. " I don't believe I have all the right ideas, but I believe that our entire student body and faculty have great ideas, and I would want everyone to feel like we can discuss them together and make plans together because that's how we'll move forward as a school," she said.
Leave a Comment
The staff of the GHFalcon would love a donation to help the journalism program at Green Hope continue to flourish. Many of our donations go to towards improving the materials that we deliver to you in electronic format. Thank you so much to those that are able to donate.
About the Contributor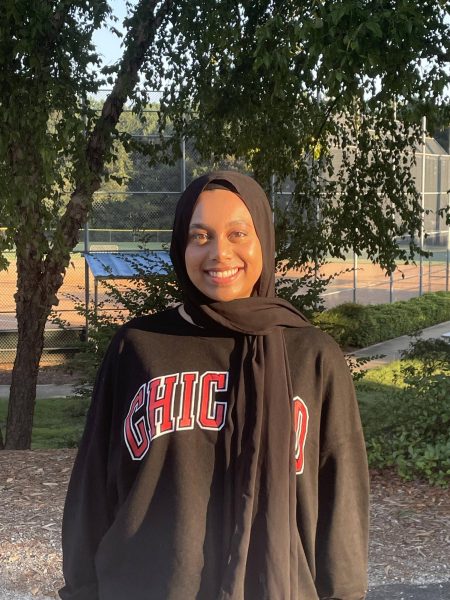 Zeba Hussaini, Editor-in-Chief










Zeba Hussaini is a senior at Green Hope High School returning for her third year on the staff. Her main responsibilities include creating content, overseeing publication and site maintenance....