Practice Makes Perfect as Winter Guard and Indoor Percussion Win Big
Green Hope gains another win. Both Indoor Percussion and Winter Guard placed first in the Winter Guard International competition in Richmond, Virginia. The groups of motivated students had their three months of hard work and preparation pay off by receiving this tremendous win.
Julia Lopez, the captain of Winter Guard, stated "Overall this was just a nice thing because we are a very new group, so our first win was very celebrated."
It was a tremendous day for the GH winter programs! GHIP placed first in their WGI Regional finals, upping their score by nearly a point, Varsity Guard earned first in class and JV took 8th on their debut performance!

— Green Hope High Band (@GreenHopeBand)
Previously placing third or fourth in previous competitions, this win was boosted the team's morale. Sophie Draghici, a bass 4 on marching bass drum, said, "It means we're getting back to where we were before because COVID kind of cut down our program." Although these programs have dealt with past struggles, they have been able to use these circumstances to their advantage and make the best of them through these wins.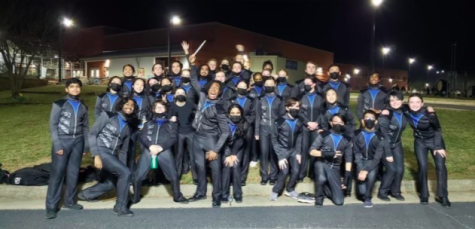 "
Overall this was just a nice thing because we are a very new group, so our first win was very celebrated."
— Julia Lopez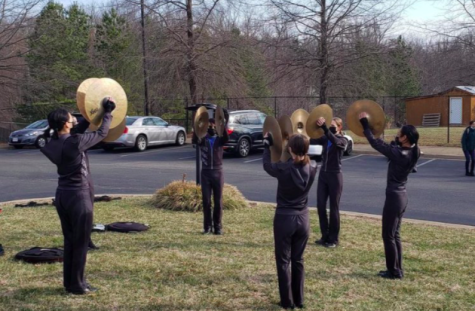 Leading up to the main competition, the students in this group would spend long hours after school practicing and perfecting their performances.  Sometimes the groups would even spend as many as eight hours on Saturdays practicing.  Sophie added by saying, "It can be hard especially when we have rehearsals after school until about 8:30 pm so you have to find time to work on school in between." Julia went on to say, "since it's my senior year it's been a lot easier, but in past years it has been a bit overwhelming just because there is so much that we do in so little amount of time." 
Although balancing school and practice was a struggle, it was worth it in the end for these students. Having a clear passion for performing and perfecting their programs helped them to get through those long days. In the end, this passion for perfection reflected in their winning performances.
The hope from these competitions as stated by Julia is "connecting with the audience and being able to share that show and story for the last time." Being in her Senior year, it has been exciting getting this first win. This is definitely the start of a bright future for both Winter Guard and Indoor Percussion.
Our Green Hope Winter Guard and Indoor Percussion Groups will continue their competitions throughout the Spring season.
Leave a Comment
Green Hope Continues Winning Streak in AIA Competition
Green Hope's Indoor Percussion Ensemble earned first in class during their competition on Saturday, March 12th at Middle Creek High School. This exciting accomplishment called for many hours of practice and has been something that has positively impacted these students. One student, Rishon Rajkumar, bass five percussionist, stated "I think this time we had a lot more crowd reactions, which kind of added to the energy." Not only do the countless practices pay off to help them win their competitions but also the reactions received from the audience. Rajkumar added, "it's fun when you have an impact on the people watching and excitement around the program."  
"
It's fun when you have an impact on the people watching"
— Rishon Rajkumar, Senior
Indoor Percussion still has more work ahead of them, but it's clearly something these students enjoy. Rajkumar ended by saying, "the fact that we're producing these really high quality numbers and our work is being shown off is great." The recognition they have been receiving is well deserved and they're not even finished. With only three competitions left, they strive to get better.
Leave a Comment