HOSA: Strength in Teamwork
September 15, 2022
HOSA, once called Health Occupations Students of America, is an international organization created by Health Occupation Educators in the 1970s. Now known as HOSA- Future Health Professionals, they compete in various Health Science events including Physical Therapy, Medical Terminology, and Health Career Photography.
Green Hope HOSA members are regularly involved in leadership and community service events such as Blood Drives and writing thank you letters to groups that include Wake County EMS, SECU Family House, as well as patients/families at assisted living facilities. To join HOSA, students must have completed Health Science I and, after joining, HOSA students are required to compete in a Health Science event. Green Hope HOSA advisor, Ms. Ashley Davidson, describes the Health Science events as being similar to Science Olympiad, except for Health Professionals.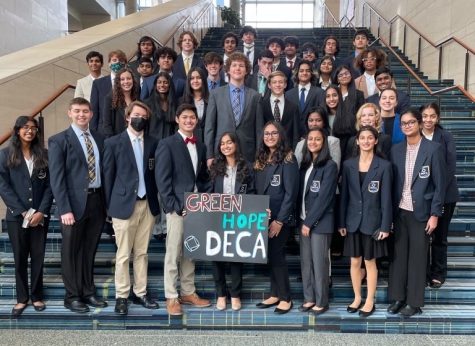 When asked about some of the great things HOSA did last year, Davidson replied, "We are great competitors. The way we divided study groups for each competition led to top ten performances by many GH students. We have excellent members who want to succeed, as well as great advisors and a board who will put in the extra hours to help fellow HOSA members learn skills they will have to learn and perform." Additionally, three Green Hope students placed top three in physical therapy, one of the Health Science main events. All three students went on to compete at the International Leadership Conference in Nashville, TN. This was an incredible feat as it was the first top three for any Wake County school in decades.
Despite these successes, there are still aspects in which HOSA could improve, specifically leadership and mentoring. Davidson stated, "GH HOSA has, for a long time, been known as an independent club where students will study on their own, prepare on their own, and succeed on their own. Last year, it all changed. Members supported each other and challenged each other making their experience more meaningful." She believes that if students continue to keep on working together and regularly step up as leaders, HOSA will greatly improve.
As for HOSA's goals for this school year, they aspire to outreach more Green Hope students through events that will give back to the school and community. Davidson feels that few people actually know what HOSA does and that being more present at school will help with that.