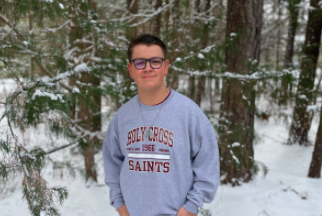 Seniors Give Advice: Austin Brezina
GHFalcon Continues its Coverage of Senior Advice
Introducing Austin Brezina, senior and member of the Green Hope theatre company. In this edition of Senior Advice, Austin talks about success, who you should surround yourself with, and more.
What do you want to tell underclassmen to help them for the future?
"A lot of things are going to change in school, and so when life throws you those curveballs swing at those bad boys."
What clubs do you recommend?
"I would recommend something that would be like a sort of a release; There is a lot of pressure at Green Hope for different academic things. Find a club that will help bring some relaxation… So for me, that (relaxation) came from chorus.  It is a class, but it also serves as something I do outside of school as well."
What do you wish you had done differently?
"Don't shut yourself out. If you're put into a situation where you feel like there's really nothing to do. Do something. Don't just sit there on the sidelines. Talk to someone. Introduce yourself. Do something you never thought you would've."
What would you tell underclassmen about success. What does it look like to you?
"Success is going to come from taking some risks and being yourself. Surround yourself with people who are going to hold you accountable. [People] who keep you at a good place so that you can not necessarily be successful in getting money, graduation, or grades or whatever but that will make you be the best person you can be."