Which Thanksgiving dish are you?
Scrambling to set the plates for this holiday season, food is an essential part of Thanksgiving. Every year families get together around a large platter of dishes, ranging from a variety of cultures.
Each culture brings something different to eat. If you've ever wanted to try something new, The GH Falcon has compiled a list of convenient, tasty dishes to help you make this Thanksgiving a special one.
Beans and Rice – Cuba
Beans and Rice is a dish you can find almost anywhere on the globe, however Cuba is famous for its version. This Cuban dish is well known for its black beans, and is relatively easy to cook! It's healthy and convenient to make, and the perfect dish to add to your Thanksgiving palette!
The recipe takes about 50 minutes to prepare. The dish requires four cloves of garlic, one teaspoon of salt, six slices of bacon, two tablespoons of olive oil, one medium onion, one green pepper, two and a half teaspoons of chicken bouillon powder, one bay leaf, one fourth teaspoon of ground cumin, half a teaspoon of dried oregano, one and a half cups of uncooked long grain white rice, two 15.5 ounce cans of black beans with liquid, one and three fourth cups of water, and one tablespoon of red wine vinegar. The following article goes more in depth on how to prepare this dish.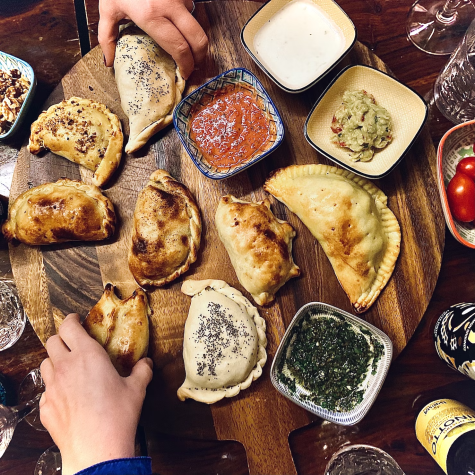 Beef Empanadas – Argentina
Caption: Empanadas, a classic hispanic dish makes for a great pick for Thanksgiving! (WOM | Creative Studio)
Empanadas are popular around the world. They can serve around eight people, take about an hour to cook, and require 30 minutes to prepare. They are a stuffed bread or pastry that can either be cooked or fried. The dish is most commonly found in Latin American and in the South of Europe. Empanadas can be made with different filings, and are a great pick for the holiday season!
If you're looking to save time, empanadas can be made 3 days in advance. Once baked, they can be preserved in a refrigerator. All you have to do is lay the empanadas out on a parchment-lined baking sheet, and they'll be good to freeze! Simply reheat them in a toaster or microwave once you're ready to eat.
You'll need two and a half cups of all purpose flour, half a teaspoon of sea salt, four ounces of unsalted butter, one large egg at room temperature, a third of a cup of ice water, and one egg beaten for egg wash. For your filling ingredients you'll need one large russet potato, two tablespoons of olive oil, 0.75 pounds of ground beef, half of a medium onion, one small carrot, one rib of celery, two cloves of garlic, a half a teaspoon of chili powder, one teaspoon of ground cumin, a half a teaspoon of ground cinnamon, 0.75 cup of beef broth, half a cup of peas, half a teaspoon of salt, and half a teaspoon of pepper. For more information on how to make empanadas visit this website.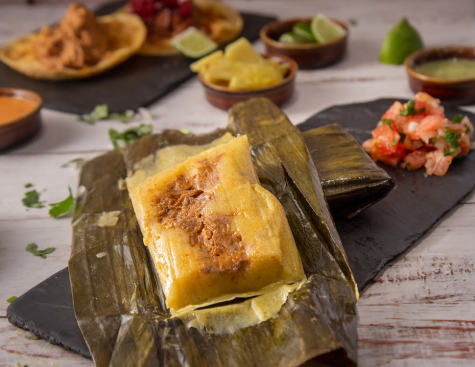 Tamales Rojos – Mexico
Caption: Similar to Empanadas, Tamales can be made with differing fillings. Soft in texture, it makes for the perfect dish on Thanksgiving! (Gonzalo Guzmán García)
Tamales rojos is an authentic Mexican pork dish that includes shreds of spicy meat wrapped in masa dough. If you're looking for a soft and tasty dish, tamales rojos are for you! Though the dish itself contains pork and chili, different meats and fillings can be used as desired.
Quick to make, tamales take about 20 minutes to prepare if all the ingredients are set. The ingredients needed for this dish include seven to eight pounds of pork butt or pork shoulder, two and a half cups of water, one tablespoon of sea salt, one batch of tamale masa and corn husks. Depending on the quality of the ingredients, tamales may be costly, however it is typically made on the cheaper end. Convenient and fairly quick to make, this dish makes for a perfect meal on Thanksgiving! For more in depth information on preparing this meal visit the following article.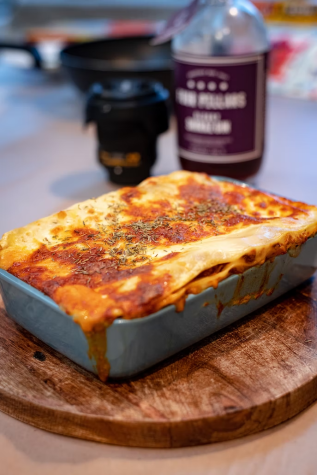 Lasagna – Italy
Caption: Popular throughout the world, lasagna remains one of Italy's most popular dishes, especially during Thanksgiving (Paul Pan)
If you are a cheese, pasta and tomato sauce lover, lasagna is for you! A popular dish throughout the world, lasagna remains one of the most globally appreciated Italian dishes. Typically containing stacked layers of pasta, chunked onions, carrots, ground meat, cheese, tomato sauce and Italian spices, lasagna is a hearty meal sure to fill you up. Some side dishes that go along with this meal include breadsticks, differing salads, and antipasto.
Lasagna takes about 50 minutes to cook, and about an hour to prepare. However, the preparation time may vary based on how much time is needed to prepare the individual ingredients. Ranging from 20 to 90 dollars, the dish is cheaper to make when prepared from scratch. If the ingredients are fresh and local, the lasagna will always taste exceptionall!
The following article goes more in depth on how lasagna can be prepared quickly and efficiently.
Steamed Fish – China
Chinese cuisine has a vast palette to offer for Thanksgiving, including dumplings, sesame turkey, and honey-hoisin sweet potatoes. One dish that is popular and easy to accept throughout is the traditional Chinese steamed fish. Easy and authentic, all it takes is a fresh fish of your choosing. Some popular fishes for this recipe include sea bass, catfish, flounder, and grass carp. To enhance the dish, different spices may be added after steaming as per the cook's tastes.
The total preparation time for this meal is shorter than most, taking under 20 minutes. If you're looking for something quick and easy to make, traditional Chinese steamed fish is for you! The following article goes more in-depth on how traditional Chinese steamed fish can be prepared quickly and efficiently.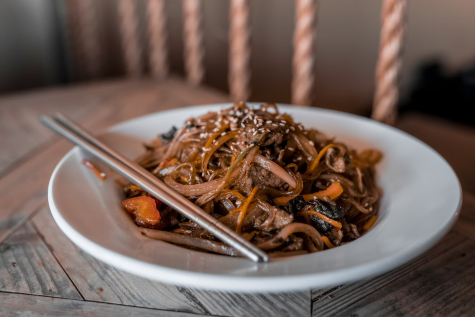 Japchae (Stir Fried Glass Noodles) – Korea
Caption: Japchae, a traditional Korean dish used oftenly made during Thanksgiving (GoodEatsYQR)
If you enjoy a simple dish with noodles and mixed vegetables, japchae is for you! Containing sweet potato starch noodles, japchae is a classic Korean dish that has many variations to it including spicy seafood japchae and kongnamul japchae.
It is common to add egg garnish and varying kinds of meat to it. The meal also makes for a great vegetarian dish, as the meat can be replaced for more vegetables, mushrooms, or pan-fried tofu. If kept well, Japchae can last for 3-4 days, and can be served hot or cold. The following article goes more in depth on how Japchae can be prepared quickly and efficiently. Additionally, more Korean cuisine that fits the Thanksgiving palette can be found in the following article.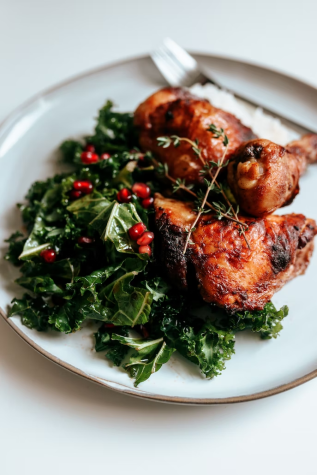 Tandoori Chicken – India
Caption: Tandoori Chicken, a classic indian dish, gets its red color from the hot spices marinated on top of it. (Nathan Dumlao)
If you enjoy chicken and have a knack for spicy foods, tandoori chicken is the best pick for you! A popular dish throughout India, tandoori chicken is a delicious replacement for turkey on the dinner table. Containing chunks of chicken marinated in hot spices and drenched in creamy yogurt, crushed ginger, garlic, and lime juice, tandoori chicken comes out as a smoky, well-crafted meal. The chicken gets its gorgeous red color from the chili added to it.
Grilled in a clay oven fueled by coal or cooked over a grill, the meal only takes about 30 to 40 minutes of preparation, however the preparation time may vary. Tandoori chicken is best paired with lemon rice, naan bread, and mint chutney. The following article goes through a step by step process of how tandoori chicken is prepared.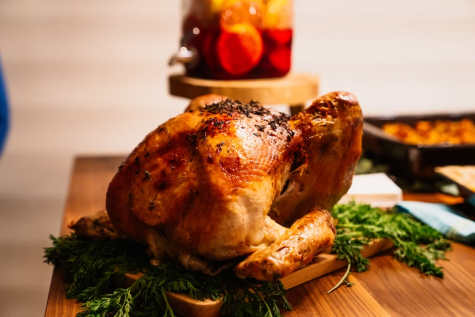 Turkey – America
Caption: Thanksgiving Turkey, the signature dish for this nationally recognized holiday (Claudio Schwarz)
Lastly, your classic thanksgiving turkey! The signature centerpiece for this nationally recognized holiday. The ingredients needed to make this dish are one 12-20 pound turkey (of course), one peeled and quartered onion, one quartered lemon, one quartered apple of your choice, 0.75 ounce fresh rosemary, 0.75 fresh thyme, 0.75 ounce fresh sage. For herb butter, which you will need with this recipe, you'll need one cup of softened unsalted butter, one teaspoon of salt, a half a teaspoon of freshly ground black pepper, six to eight cloves of minced garlic, and freshly chopped herbs. For the amount of people this meal feeds it's relatively cheap coming in at around $34, or an average of around $2 a pound. For further instructions on how to prepare this dish visit this article.
Whether it's trying something new, or spending time with family, food is a staple for Thanksgiving. Sharing food is a large part of bringing people together, as it represents their diverse cultures and backgrounds. Remember to stay open to these new options, and to have a wonderful Thanksgiving ahead. Happy cooking!
The following articles include more vegetarian options, Asian American dishes, and globally used dishes for this Thanksgiving.