BTS: Theater Company preps for Leaving Iowa
The GH Theater Company prepares to open the front curtain to their Leaving Iowa performance, premiering October 20th. Leaving Iowa is calm and takes the audience on a peaceful emotional journey. The play is about Don Browning, a journalist who returns home to reflect on his childhood and former relationships and locate the ideal place to scatter his father's ashes. Lead actor Henry Rowen ('24) describes the production as "humorous, dramatic, and immensely alluring."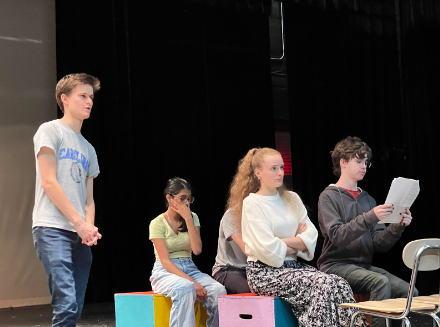 Mr. Peter Comperatore, the play's director, claims he had almost 80 auditions before selecting the final 21 actors. After the initial audition, the contestants moved to the second round, a more selective and final process.
When asked about his responsibilities and the production's progress so far, Rowen said, "Don Browning, my character, travels to reunite with his absent father, with whom he didn't have a good relationship. He switches back and forth between his previous and present selves while acting as the play's narrator." He added that he feels theater is an excellent way to spend his time and participates every year.
A 46-person crew works in several departments behind the scenes to make the performance come to life. The set team, props team, hair team, makeup team, costume team, projection team, light team, and sound crew are some of the departments. They all work on their separate projects while making sure everything coordinates.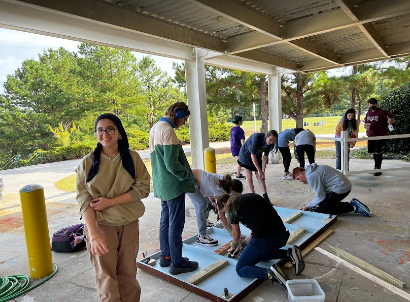 Max Guerrero, a member of the projection team, talks about the backstage atmosphere as the production comes together. He notes that the crew's excellent communication allows them to coordinate and cooperate well. Although the cast members and the play's director, Mr. Peter Comperatore, have reported that things are going well so far, he observes that every production has its fair share of hiccups.
The play this year contrasts with those in the past at Green Hope. While Puffs, a play from last year, moved much more quickly, Leaving Iowa is more thought-provoking. The actors and Mr. Comperatore agree that the play will relate to Green Hope students on multiple levels and are interested in observing how each person interprets it; everyone has a unique view of what a family is and how its dynamics should function.