Nine nights of dancing: Garba in Cary
After nine nights of dancing, the annual Hindu festival, Navaratri, celebrates a battle between good and evil where Goddess Durga defeated the demon Mahisasura. These nine days of Navaratri represent Goddess Durga's nine avatars.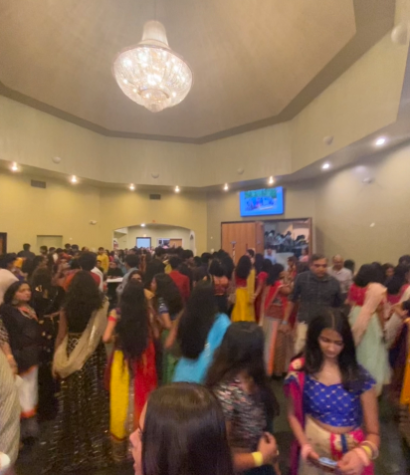 The traditional Garba dance worships the feminine form of divinity. A cultural event originating in Gujarat, India, the community circle dance portrays the significance of humans having Devi, or divine energy, in them. 
This year, the festival fell on September 26 through October 5th as celebration dates determined by the Hindu calendar. The Hindu Society of North Carolina (HSNC) and the Raleigh Convention Center concurred with the dates set by the Hindu calendar and hosted the celebrations for the local community.
In Cary, Hindus joined together to partake in these festivities dressed in radiant cultural attire, getting family and of different backgrounds to join as well. Everyone was welcome for the festivities as long as they were respectful of the dance and Brahma, the Hindu god of creation. Thus, guests were expected to dance barefoot because wearing shoes in God's presence is depicted as impolite.
Various students at Green Hope attend Garba as a chance to embrace their heritage while having a joyous time with people all over Cary. Sasha Allu ('26) went to Garba for the first time this year at HSNC. Allu arrived right on time at
8:30 and left at midnight. She says, "Garba gave me a chance to connect with my culture while having a great time with my friends." Dancing was Allu's favorite part of Garba, which is described as having various steps originating from Gujarati roots.
In preparation for the event, cultural attire is a must for Garba. Women wear a traditional lehenga, or ghagra, consisting of a blouse and an ankle-length skirt. The colors of a lehenga are very spirited, having various shades and designs. Men wear a kurta, a loose-fitting long collarless shirt worn with loose trousers called shalwars. To represent prosperity, bold jewelry is worn, which typically includes belly chains, necklaces, earrings, and bracelets.
Garba season is widely celebrated overseas and is now embraced by local communities all over the nation, including Cary. It is a unique opportunity for families and friends to honor their faith in a way that is entertaining and accessible to anyone.