Band Brings Home Multiple Wins at Panther Creek Invitational
Y-Nhu Do, Staff Writer
September 29, 2022
Important moments occur when the clock strikes midnight: A new day begins, Cinderella leaves the ball, and Green Hope's Marching Band and Colorguard finish their first competition with flying colors.
Last Saturday, the Green Hope Marching Band and Colorguard performed in their inaugural competition of the season at Panther Creek High School. The competition started at 5:15 pm with the first performance and ended at around midnight with the award ceremony. After a long day of practicing and performing, Green Hope came out in first place in all captions of the 4A class, which includes color guard, percussion, music, effect, visual, and overall first place.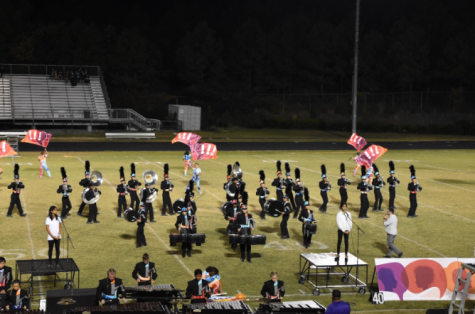 However, preparing for their prize-winning performance was no easy feat. Both the color guard and band had been getting ready for this moment months in advance.
"It was so much hard work. We spent so many hours on the field trying to learn the choreography," said Harini Anantharaman ('24), a student on the color guard. "We practiced about two hours on Mondays and Wednesdays and three hours on Thursdays."
The marching band didn't have it any easier. Mr. Creighton Flowers, the band director, said, "It took a lot of rehearsing. We started over the summer with band camp, and now we practice three days a week after school."
It was through this rigorous training that the students were able to deliver such an applaudable performance. Amulyabrinda Bollapragada ('24), a student in the marching band, said, "We had already rehearsed the performance so many times that it felt natural for us. We stayed really focused throughout the entire round and it was the best it could be."
Mr. Flowers agreed. "I thought it was the best performance they'd had up to this point and I thought it was an overall success," he said.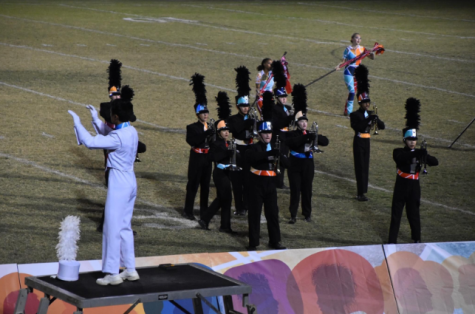 Despite their notable accomplishment, the marching band and color guard continue to look toward the future. Both groups intend to polish and improve the show for their next competition.
The marching band plans to build upon its previous shows. Mr. Flowers said, "From a production standpoint, we still have to add stuff to the end of the show to finish it up and add some more choreography."
On the other hand, the color guard aims to refine its stage presence. "We could definitely work on projecting more. Because we are very small on the field, we have to make sure our movements are very big," said Anantharaman.
Besides the technical aspects, students also want to focus on the mental side of their performances. The real challenge is maintaining the same level of dedication throughout the entire season. "I think keeping motivation high and remembering why we're doing what we're doing is going to be important," said Bollapragada.
Overall, both groups feel confident about the upcoming season. "I think we have a good foundation that we can build on. We are definitely in good shape," said Mr. Flowers. As the season continues, the Green Hope Marching Band and Color Guard have high hopes for a successful year, and look forward to the Bands of America competition on October 8th.