Green Hope Marching Band Strikes a Chord With the Community
The Green Hope Marching Band is ready to roll after spending an entire summer preparing for the upcoming season. They bring grit, tenacity, and talent to all their performances.   
The Green Hope Marching Band combines the brass, woodwind, and percussion branches of Green Hope's band program, as well as the color guard. Green Hope Band Director Mr. Creighton Flowers brings his passion for music into the program, striving to develop students' character through music performance, teamwork, and leadership, helping solidify the value of music within the community. 
Regardless of the weather, the marching band practices nearly everyday and can often be found rehearsing out on the field, fine-tuning melodies and preparing for upcoming performances. The band was able to see their hard work pay off on September 10th, 2022, performing in the Bands of Cary alongside peers from Green Level High School and Cary High School's marching band. The opportunity not only allowed them to celebrate their success, but also a chance to bond with band members from different schools. Mr. Flowers commented on the band's season, saying, "[It's been] very good, the students are working hard and making great progress."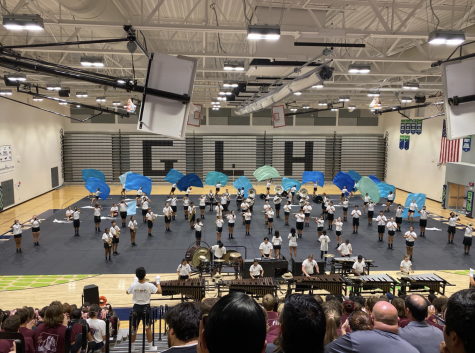 The marching band's contributions can be felt throughout the entire Green Hope community. Radhika Chaudhary ('25), who announces the opening for halftime shows, says, "Being in marching band has [given] me a lot of new connections, new friends, and a new experience." Even outside of school, the band's effects can still be felt. Serving as the start of countless friendships, memories, and valuable lessons, Mr. Flowers says, "The band provides a sense of community for the members where students are able to form relationships and friendships. It allows students to find their unique place in a large school and feel a sense of family.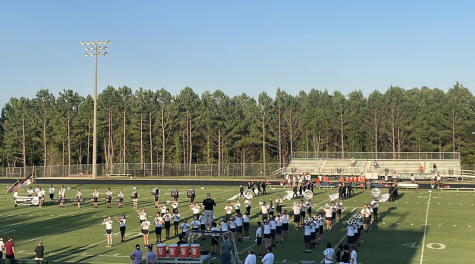 The band doesn't let their recent success prevent them from working even harder, aiming to deliver their best performance each and every time, whether it be a halftime show for the football game or representing the school in a band invitational. Mr. Flowers wants the band to stay motivated, saying, "We want to get better each week and make sure that we define our own success based on our potential and work ethic. 
As the marching band continues into their season, they hope to find success and further their passion and commitment to their craft.