Gabby Ortega Crowned Miss Teen NC 2022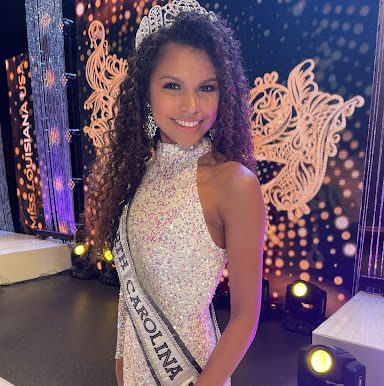 On January 29, 2022, Green Hope's very own was crowned Miss NC Teen USA! Gabby Ortega is currently a junior at Green Hope. Although tackling school, home life, and the busy world of pageanting hasn't been easy, Ortega is thrilled to be the current title-holder. She is striving to make an impactful difference and enact change with the platform and influence Miss NC Teen has given her. Ortega will be representing North Carolina in the competition for Miss Teen USA later this year! If you are interested in learning more about Ortega and her journey with beauty pageants, see the Q&A below. 
How did you get started competing in pageants? 
"After my aunt suggested that I try pageantry, I looked up local pageants in NC. One of the first ones that popped up in my search engine was Miss NC Teen USA. As I looked into their website and learned more about what pageantry was, I noticed the motto of the organization was 'Confidently Beautiful.' Every pageant system has a different message, but I felt that I truly resonated with USA's motto. I went into last year's pageant full of anticipation and excitement. To my biggest surprise, I placed First Runner Up. I immediately decided to come back the following year, and actually won. It has been a surreal experience, and I honestly feel so blessed to represent NC."
What motivated you to want to be Miss Teen NC? 
"A social issue I've cared a lot about is human trafficking awareness. I knew I wanted to use this platform as Miss NC Teen NC to advocate for victims of human trafficking. I have been very involved with advocacy and humanitarian work in this category for the past couple of years, and I've been lucky enough to have helped pass one of the first NC and SC laws, the VOCA Fix Act. After speaking at the North Carolina Human Trafficking Conference as a Raleigh representative, I quickly got motivated to bring a trafficking advocacy club to Green Hope called Youth For Abolition. My main goal as the current titleholder is to spread my mission to abolish modern-day slavery statewide."
If you had to pick, who would you say is your biggest inspiration? 
"I think that would have to be Cheslie Kryst. Seeing her as a successful woman who had won the title of Miss USA 2019 with her big natural hair, she became my biggest role model and inspiration to me, as I decided to embrace and compete with my naturally curly hair."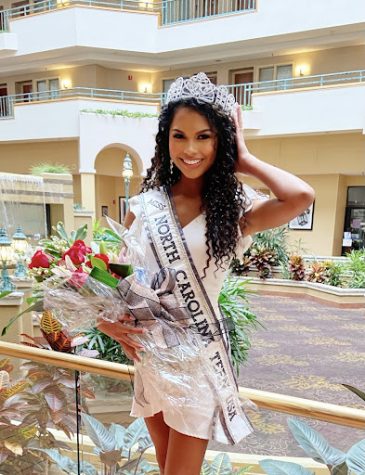 What are your responsibilities as Miss Teen NC? How do you balance these with school and home life?
"During this year, my job is to represent NC as a leader and role model. I have to make appearances and promote sponsors, not to mention also preparing for Teen USA in a few months! Right now, it's hectic. School can be tough. It's all about having to keep your mental health in check, and with traveling and missing school certain days, I've had to learn how to manage my time efficiently and be productive to the best of my abilities. Right now, school is just my relaxed, safe zone where I know I can spend time concentrating on my classes and hang out with my friends!"
What are some of your favorite hobbies? 
"I love competitive ballroom dancing and competitive tennis. I play a lot of tournaments and compete in shows for ballroom dancing. Another hobby I've recently taken up is baking!"
When the competition is fierce, do you ever find that you are comparing yourself to other people? How do you prevent this?
Last year, there were times I did look around and found myself comparing to the other girls competing. Mentally, I felt that held me back on several occasions throughout the competition. This year going into the pageant, I learned to empower myself and block any negativity out. And it made a huge difference. As someone who understands the importance of confidence, I want to use my title as a way to let girls (and guys!) know that it is okay to not be perfect and embrace the best versions of themselves at all times!"
Will you continue to compete for Miss Teen USA? If so, when and what will this entail? 
"Yes! You can only win your state title once, and the year that you do, you compete at Miss Teen USA. The competition doesn't have a set date currently, but it is supposed to be around August."
What are some of your favorite parts about the pageants? 
"I think just making new friends. Everyone thinks that pageant girls are like this stereotype of fake and dumb and that we don't have much personality. But it is completely different than that. These girls that I am competing with have goals and ambitions and are leaders. They strive to make a change in their society, and this is something you don't learn until you actually get to know them. And so, through pageantry, I have learned how to connect with other girls, who are like me. We all feed off of others' energy, and I think that is what makes pageantry so enjoyable."
Does getting ready take a long time?
"I think it takes me maybe an hour and a half to get ready before a show or appearance!"
Do you pick your dresses/clothing, or does someone else pick these for you?
"When you are competing for your state, you essentially pick your entire wardrobe by yourself. After you win your state and you are going to nationals, you win the support of many sponsors who work with you over your year to help provide things you need. The support team I have is absolutely incredible; they have made me feel so special!"