Current captain of the four time State Championship winning Green Hope soccer team, and member of the 2021-2022 undefeated JV team, Alejandro Perdomo ('24) begins his fourth and final season as a Falcon. His soccer journey however, began long before he walked the halls of Green Hope.
Perdomo explains the beginning of his journey, "I have been playing since I was a little kid and my brother used to always play. My dad was also a huge fan of the sport."
With the majority of his life involved with the sport of soccer, Perdomo has his sights on furthering his career, saying "If I can get into a school that has soccer, I will continue playing and if not, culinary school."
Many would think he would have an elaborate pregame meal ritual. Although when asked about it, he simply said "three or more bananas," keeping his snack simple but effective.                                          
Perdomo has played in some very intense situations, being a part of State Playoff games for two consecutive years. When asked how he gets focused before an important game, he says "It starts before you even show up to the field. Knowing what you're gonna do, and what the game plan is. When warming up just envision doing it."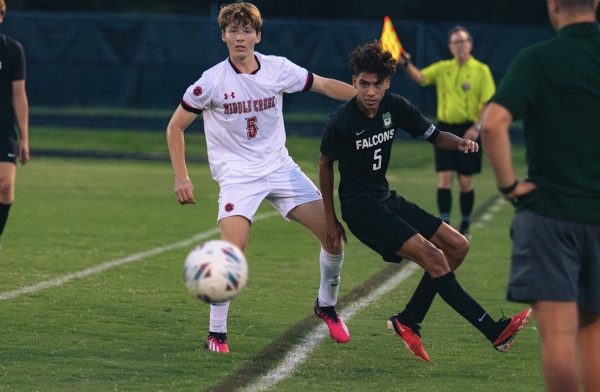 Being a student athlete, balancing academics with a sport can be challenging and mentally draining. When speaking on this, Perdomo says "It handles me to be honest, it's not that bad, I've got some easy classes this semester. I think it's important to not overwork yourself."
After many years on the soccer team, Perdomo has achieved many goals. When asked what he was most proud of, he said it was "Being chosen to be a captain."
Likewise, he has made many memories during his soccer career, but the one he is most fond of is "Coming home after the big second round playoff win over Lumberton, going to Zaxby's and celebrating with the boys."
Perdomo has been a leader on the soccer team for many years. When asked what advice he would give to his teammates and underclassmen, he said "Enjoy it, it goes by fast, and make every second count." 
Perdomo looks forward to the rest of his soccer season and hopes to finish off strong. While this is his last year with the team, the memories he has made will stay with him for the rest of his life.